DC-SCM-compatible open source BMC
Antmicro's open source DC-SCM-compatible Baseboard Management Controller, developed in collaboration with Google, aims to move common server management, security and control features from a typical motherboard into a practical module which can be used across various data center platforms.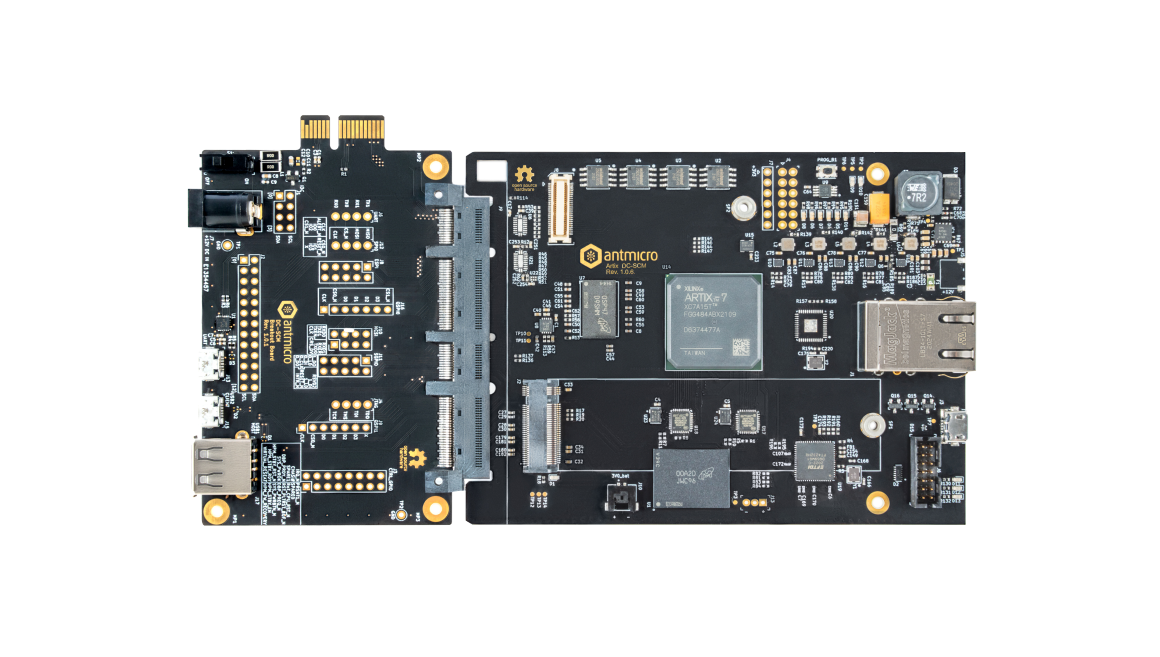 FEATURES:
Root of Trust
Open Compute Project DC-SCM spec compliant
FPGA on board
As part of our effort within OpenPOWER's LibreBMC Workgroup to provide developers with a unified, open source BMC controller based on the OCP DC-SCM standard, we have designed two FPGA implementations that are also broadly supported by the open toolchains hosted under CHIPS Alliance.
READ THE BLOG
Artix DC-SCM
The first module, Artix DC-SCM, is based on the low-cost, high-performance and open source-friendly AMD-Xilinx Artix-7 FPGA family and provides a feature-packed Secure Control Interface.
SEE MORE
ECP5 DC-SCM
The second DC-SCM-compatible module, ECP5, is based on the Lattice ECP5 FPGA family and offers features similar to the Artix board plus an optional external 12V power input.
SEE MORE
DC-SCM Breakout Board
Our compatible DC-SCM Breakout Board exposes the modules' IO interfaces from the edge connector to aid software development and initial testing of the DC-SCM before installing it in a server.
SEE MORE
Our platforms contain a Secure Control Interface which, in combination with the DC-SCM Breakout Board, provides PCI Express, USB, QSPI, SGPIO, NCSI, multiple I2C, I3C and UART channels. With 512MB of DDR3 memory, 16GB of eMMC flash, and a dedicated GbE interface, they bring the required flexibility and functionality to your use cases.
These platforms have been released as open source, meaning that Antmicro's customers get full control of the solutions that we build based on them, along with unmatched flexibility, transparency and usability.
VIEW ON THE PORTAL
Antmicro offers commercial development services, helping customers build more secure and reliable products by creating open source test platforms which can be customized to meet your specific requirements.
CONTACT US
Interested in purchasing our products or services?
Other platforms: