MEMORY TESTING PLATFORMS
Memory vulnerabilities in DRAM memories are a well-known, but still prevalent problem that Antmicro is actively involved in solving. To support research and prevent security issues, in collaboration with Google, Antmicro developed a DDR memory testing framework with a variety of custom, open source hardware platforms.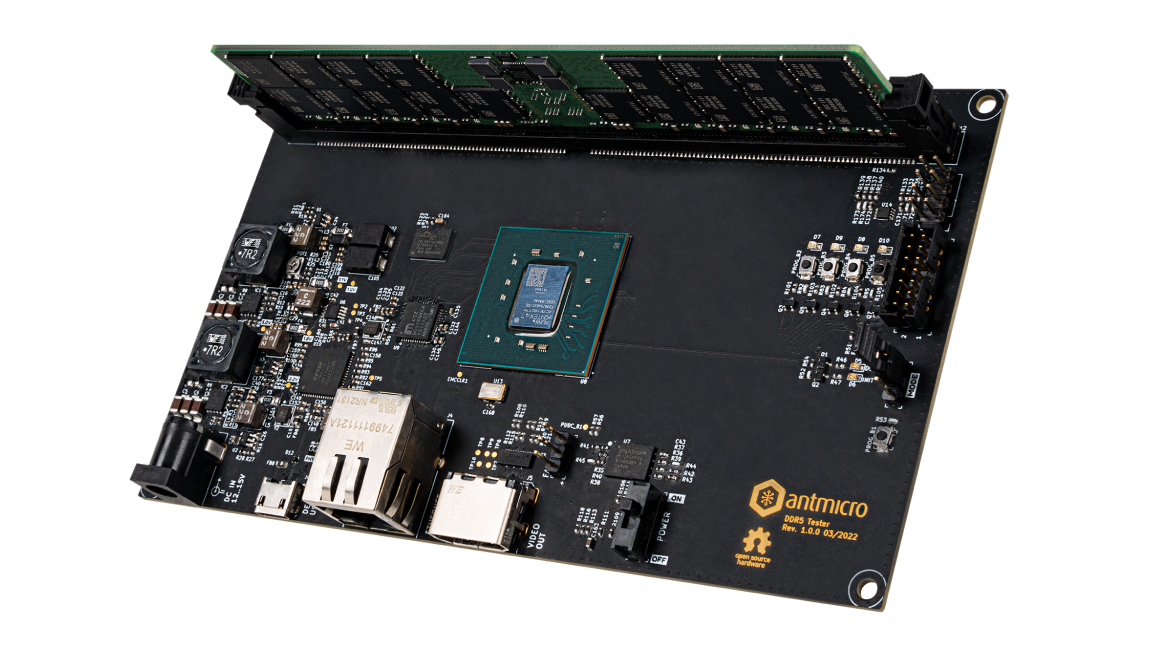 All platforms have been released as open source, meaning that Antmicro's customers get full control of the solutions that we build based on them, along with unmatched flexibility, transparency and usability.
VIEW ON THE PORTAL
LPDDR4 Test Platform
The LPDDR4 Test Platform, based on the AMD-Xilinx Kintex-7 FPGA, is a modular, open source solution for experimenting with memory controllers and measuring vulnerability of various LPDDR4 memory chips to the Rowhammer attack and similar exploits.
READ THE BLOG
Modular and extendable
Targeting high-volume customer-facing devices where size, power use and unit cost are a priority, we have created a modular device that consists of the main test board and a series of easily swappable testbeds for different memory types.
SEE MORE
DDR5 Testbed
In order to extend LPDDR4 testboard's capabilities we created a compatible DDR5 testbed, which provides more experimentation opportunities to help create new mitigation techniques.
SEE MORE
Data Center RDIMM DDR4 Tester
The data center DRAM tester, also based on the AMD-Xilinx Kintex-7 FPGA, is an open source hardware test platform that enables testing and experimenting with various DDR4 RDIMMs (Registered Dual In-Line Memory Module).
READ THE BLOG
Data Center RDIMM DDR5 Tester
To test the next generation of memory modules, DDR5, which is the most recent version of the standard deployed in data centers, we have introduced the DDR5 Tester. It follows the structure of its predecessors, as it also includes a AMD-Xilinx Kintex-7 series FPGA.
READ MORE
Antmicro offers commercial development services, helping customers build more secure and reliable products by creating open source test platforms which can be customized to meet your specific requirements.
CONTACT US
Interested in purchasing our products or services?
Other platforms: