Embedded Conference Scandinavia 2011 in Stockholm
Published:

Last year we wrote that ECS 2010 would gain a sure place in our event calendar and so it did – on 4-5 October we took part in the 2011 edition of Embedded Conference Scandinavia. This time we were able to see the entire event and participate in the handing out of the Swedish Embedded Award, a very nice ceremony accompanied by music, good food, and a little twist in the form of short poems in Swedish in honour of the award winners.
The prize in the Enterprise category was especially well-deserved, going to Comfort Audio AB for their extremely small digital audio receiver for use in hearing aids. Well done!
If you can read Swedish, you'll find more info on the winners of the Embedded Award 2011 in all categories on the Award's home page.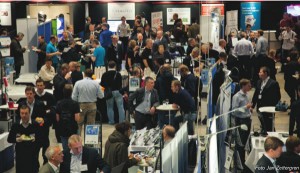 The organizers underline that the Conference was an even greater success that the one last year, with a 15% increase in the number of visitors. We certainly felt this year's event to be even more beneficial than the previous one, we had a lot of interesting conversations with our friends from Halmstad and Stockholm and even managed to see a few of the talks.
Especially the one given by Jonas Bonn from SouthPole on the current state of OpenRISC Linux port was a great and insightful speech, a good summary of where the OpenRISC project stands with respect to Linux support in view of the port's inclusion in the 3.1 Linux mainline kernel.
Other talks were also nice, although some did lack the level of detail that would make them interesting. To be fair, this is always hard to achieve if the knowledge of the audience in the field in question cannot be predicted.
Well, we should probably start preparing for next year!