Antmicro's NVIDIA® Jetson TX2 Deep Learning Platform released as open source hardware
Published:
Topics: Open machine vision, Edge AI, Open hardware
It's becoming clear that future Artificial Intelligence systems will rely heavily on the capabilities of edge devices to process large amounts of data autonomously and locally. While the edge AI ecosystem has benefited greatly from the open source availability of libraries and tools, open hardware has lagged behind, especially for the higher-end platforms, as designing around complex, heterogeneous multi-core CPUs requires significant resources and know-how.
Following up on the recent Nano™ / Xavier™ NX baseboard update, Antmicro is filling yet another gap in the open source hardware world by releasing a compact-sized, multi-camera platform for the powerful NVIDIA Jetson TX2 module. With a hexa-core, up to 2GHz CPU and a Deep Learning-capable 256-core GPU, it offers a great starting point for custom edge AI projects that require high performance that the TX2 can offer.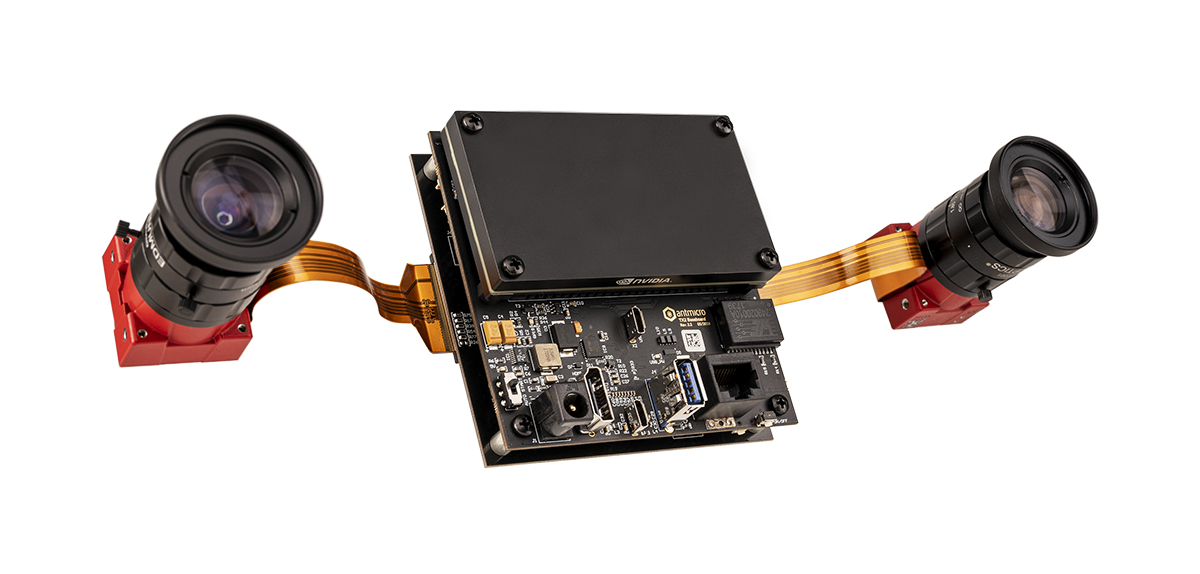 Overview
The platform consists of a baseboard, camera adapter and interchangeable video input modules, which can be connected with standardized interfaces located on the camera adapter. Its modular composition enables quick designing of custom camera expanders with specific CSI lane configurations and physical connectors as needed, as well as additional video input modules to enable new camera sensors.
The baseboard is compatible with the TX1, TX2 and TX2i modules. When equipped with the latter variant, which features autostart circuitry, the platform can automatically boot after power up - a key functionality in an industrial environment.
The mini PCIe slot with SATA support located on the board enables seamless integration of storage devices or connectivity, e.g. for LTE modems, while the I2C multiplexer on the camera adapter makes it possible to independently configure up to 6 camera sensors using a single I2C interface.
Small, powerful and flexible
Thanks to the dimensions of only 90 x 90 mm, Antmicro's Jetson TX2 Deep Learning Platform is much smaller than the Jetson TX2 Developer Kit, which makes it ideal for size-constrained devices. The board is designed to perform Artificial Intelligence tasks, such as object identification and tracking in robotics, drones, UAV/UGV etc. It does video AI tasks using CUDA capabilities for parallel processing of the incoming video data and for deep learning algorithms.
The baseboard is compatible with a variety of video accessories developed by Antmicro, such as the open source OV9281 camera board, equipped with a pair of 1-megapixel OmniVision OV9281 image sensors, each with a separate 2-lane MIPI CSI-2 interface exposed on the 50pin FFC connector. The platform also supports the portabe, ISP-enabled Alvium camera series from our partner Allied Vision, for which we have been developing all the relevant drivers to make it compatible with the TX2 SoM (and other platforms in NVIDIA's Jetson series).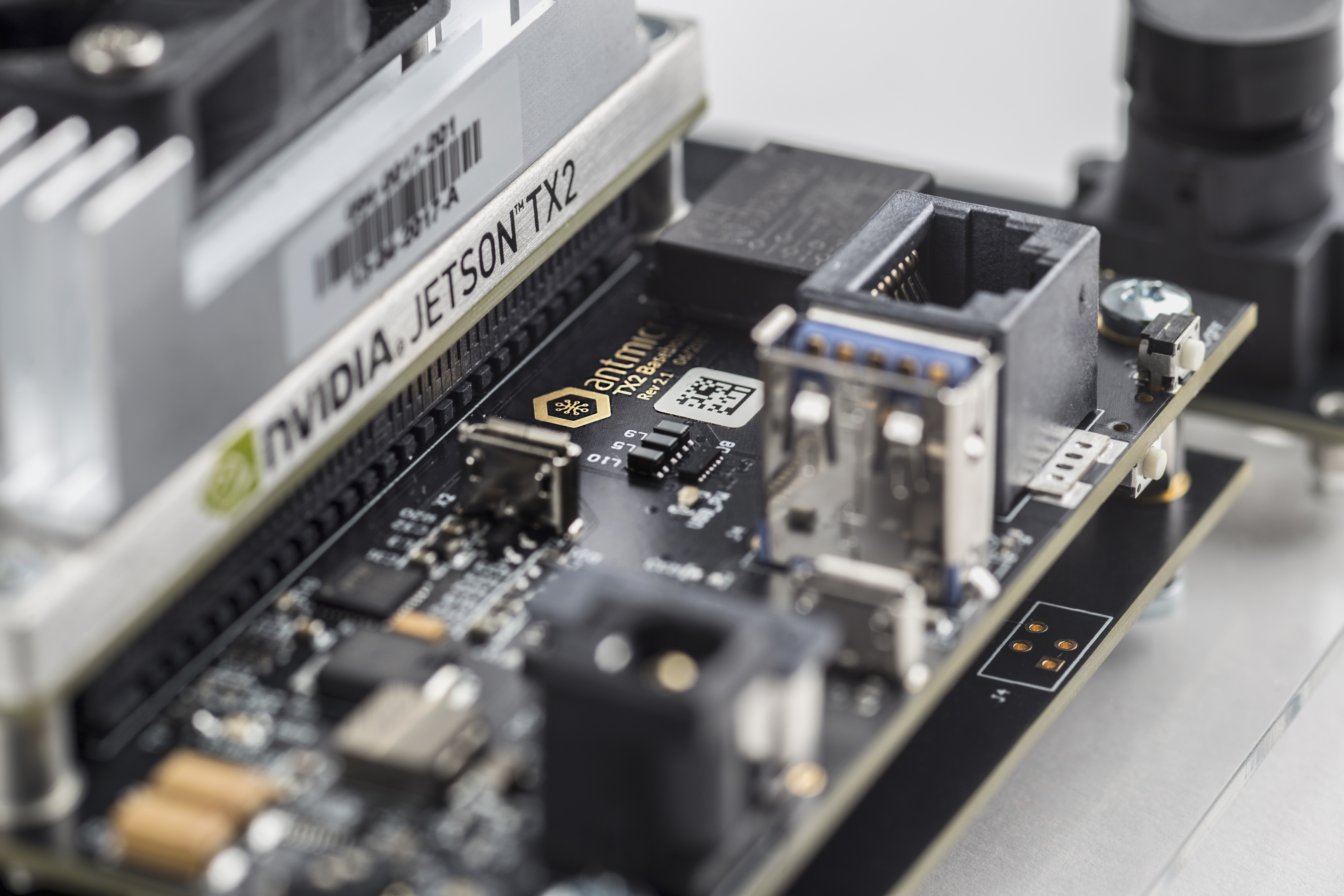 To make machine learning development easier and more accessible we have decided to release the hardware design and a basic BSP for the board as open source for the community's free use. However, to unleash the board's full potential, you might consider leaning on Antmicro's expertise in vision systems and let us adapt it to your specific use case. We have delivered numerous successful customer projects based on this flexible platform in areas such as drones, medical, industrial and autonomous devices. Our services around the platform include comprehensive hardware, software and AI development, including building proof-of-concepts, creating Yocto / OpenEmbedded-based Linux distributions, over-the-air update frameworks, cloud build and Continuous Integration (CI) systems, as well as custom Linux drivers for different cameras.
TX2 Deep Learning Platform's specification:
CUDA-enabled NVIDIA Jetson TX2/TX2i hardware
Compact-size (90x90mm) modular design
USB 3.0 host interface
HDMI interface
Gigabit Ethernet interface connector
Debug serial console exposed on Micro USB
OTG USB interface allowing to upload TX2 firmware
mPCIe/mSATA expansion port for storage or connectivity cards
Supports up to 6 MIPI CSI-2 camera sensors
Antmicro's in-depth expertise in AI-capable software applications and video platforms has been the basis of many successful projects for clients who decided to tap into our experience in delivering end-to-end development services. Don't hesitate to write to us at contact@antmicro.com to discuss how we can assist you in completing your next machine learning endeavor.