Open source Qualcomm Snapdragon 845 Baseboard
Published:
Topics: Open hardware, Edge AI
As part of our open source-centric strategy, Antmicro has been developing open source hardware which serves as a base for rapidly developing new, complex solutions - and our customers often reach out to us to lend them our expertise in building custom platforms and adapting them to their needs. In this spirit, for many years now we have been perfecting our original Jetson Nano Baseboard, a miniature edge AI platform aimed at pushing forward the NVIDIA-centric edge AI ecosystem, and this board was later joined by a long list of other open hardware platforms from Antmicro.
In demanding user-facing industrial devices, many of which are based on Android, we often reach for the Qualcomm Snapdragon SoC series, offering a very good cost vs. performance ratio. Now, in order to address the growing need for a Snapdragon device that would allow rapid turnaround development for mass market applications, the Antmicro team created an open source Snapdragon 845 Baseboard with external storage, video interfaces, a multitude of I/O and three separate power inputs all packed into a small footprint. With all the benefits of open hardware, the baseboard serves as a good starting point for building new solutions such as portable smart assistants, kiosks, VR/AR or smart screens, to name a few, and Antmicro can offer complete hardware, software, AI, OTA and fleet management development services, from a product's inception to mass deployment - all around a flexible, zero cost license and royalty-free platform.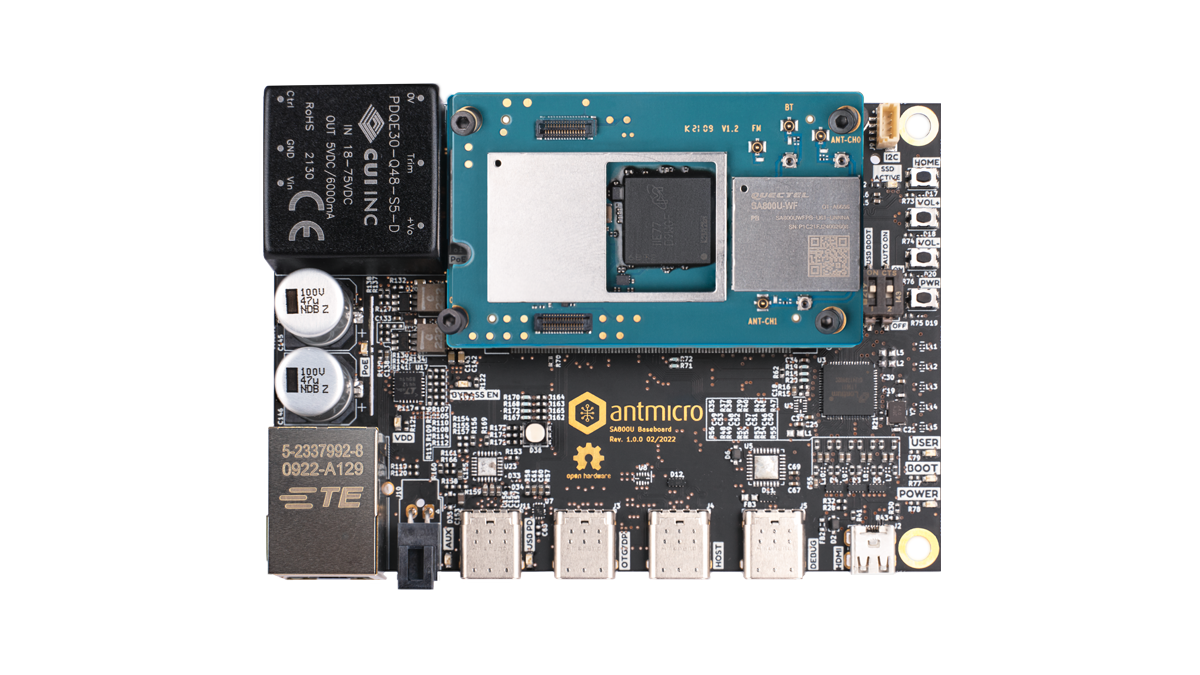 Baseboard overview
The Snapdragon 845 Baseboard is a compact-sized (100x70mm/4x2.75 inch) carrier board for the Quectel SA800U-WF System on Module. The SA800U-WF features an octa-core Qualcomm Snapdragon 845 System on Chip based on the Kryo 385 64-bit CPU and the Adreno 630 GPU. The SoC also includes radio transceivers for dual-band (2.4GHz/5GHz) WiFi and Bluetooth 5.0, while the SoM includes on-board antenna ports which simplify the antenna integration process. All the other IO-interfaces offered by the SoM are break-routed by Antmicro's baseboard through board-to-board connectors located on the bottom side of the SoM. This approach minimizes the mechanical outline of the SoM itself and allows for stacked designs for size constrained applications such as mobile consumer electronics or wearables.
The SoM offers two independent video interfaces over MIPI DSI. The baseboard exposes one of them on a generic 0.5mm pitch FFC and converts the other into HDMI with Lontium 9611 IC, making the board compatible with a variety of displays and external monitors supporting HDMI input.
The SA800U-WF supports up to four MIPI CSI-2 camera interfaces and our Snapdragon 845 Baseboard exposes two of them - each in 4-lane configuration. The baseboard also includes a unified FFC connector that is electrically compatible with a variety of open hardware video accessories developed by Antmicro. We cooperate closely with camera vendors such as our partners Allied Vision, for whom we have been developing camera drivers, as well as other vendors like OmniVision or FRAMOS. Thanks to a multitude of concurrent camera-related projects, which include topics like camera integration, driver development, ISP development and AI processing, we maintain compatibility between camera modules offered by such vendors and our own open hardware designs. In that sense, the Snapdragon 845 Baseboard is no exception, so adding a camera module to the board is greatly simplified by using either one of our existing camera adapters or quickly designing a custom one. Antmicro has also been developing a variety of video conversion devices, often including FPGA or dedicated ASICs. This includes open hardware designs such as the SDI to MIPI CSI-2 bridge or the HDMI to MIPI CSI-2 bridge, which are also electrically compatible with the baseboard.
The Snapdragon 845 Baseboard includes slots for external storage (SD Card slot and M.2 (Key-M) supporting NVMe SSD cards). The on-board M.2 slot is electrically compatible with the Smart IoT module developed by Antmicro which includes a Nordic RF52840 SoC, useful e.g. for supporting a dedicated Matter/Thread interface for communicating with home sensors and controllers.
The wired connectivity of the Snapdragon 845 Baseboard is complemented by a Gigabit Ethernet interface implemented with an on-board controller. The Gigabit Ethernet interface also features a Power over Ethernet (PoE) Power Delivery (PD) controller, which means you can use the board as part of a LAN network, providing data exchange and power over a single cable.
Besides Power over Ethernet, the Snapdragon 845 Baseboard accepts power supply delivered over either a USB-C Power Delivery subsystem or a regular wire-to-board supply connector. The latter option allows using the board with external power supply systems including wall, battery or a solar-powered installation - or a combination of the three. All of the power sources delivered to the Snapdragon 845 Baseboard can be hot swapped, and are managed by a power path controller IC that features under-voltage, over-voltage and reverse polarity protection. An important advantage of using such an IC is that the sources can be connected simultaneously and the board will manage which one to use at any given time.
The SA800U-WF SoM offers two independent USB 3.1 interfaces. The Snapdragon 845 Baseboard exposes them on separate USB-C connectors. One of them acts as a generic downstream-facing-port suitable for connecting peripheral interfaces such as USB modems, touch panels, RFID/barcode readers or mass-storage devices. The other USB-C connector supports On-The-Go (OTG) mode and allows for re-flashing the SA800U-WF SoM without removing it from the baseboard, which greatly simplifies the software development process. The same port can also be used in alternate mode and provide a DisplayPort interface for connecting an external USB-C monitor.
The Snapdragon 845 Baseboard has been designed to support flexible software development and rapid deployment. The SA800U-WF SoM can be re-flashed with one of the aforementioned USB-C interfaces. Additionally there is a third USB-C port that brings up a system console over an on-board UART/USB converter.
Android-driven, AI-capable
The default operating system for Snapdragon 845 is Android, which makes the board perfect for various signage/multimedia applications. Android 9/10 are shipped on the SoM by default, hence, after installing the SoM on the Snapdragon 845 Baseboard, most IO interfaces available on the board should already be supported in Android OS.
Antmicro offers extensive BSP/software customization and development services, so the Snapdragon 845 Baseboard - or a derived hardware design - can be adapted to a particular use case as a service. The BSP integration also applies to interfacing with any external components such as camera modules, displays, modems and any other peripheral interfaces. In particular, Antmicro offers Android customization towards Kiosk-based applications with Android UI development, Over The Air (OTA) features and advanced Device Fleet Management - all based on open source, with no strings attached, royalties and licensing costs.
It is worth noting that the Qualcomm Snapdragon 845 SoC is based on third-gen Qualcomm Hexagon 685 Vector DSP architecture. It supports multiple AI-oriented frameworks, such as TensorFlow, TensorFlow Lite or Caffe2, with more to come. A built-in Adreno GPU with Hexagon Vector Extensions engine allows it to process floating point operations efficiently.
Thanks to our expertise in the AI field we can adapt the software stack running on the Snapdragon 845 platform for AI-specific use cases, such as advanced GPU-powered inference for segmentation, object recognition and classification. The actual AI performance of the Snapdragon 845 can easily be benchmarked with Kenning - our open source AI framework which automates AI model comparison between various hardware platforms.
Putting the Snapdragon 845 Baseboard to use
The AI-enabled SA800U-WF SoM, combined with a multitude of practical IO interfaces on a compact-sized Snapdragon 845, make this platform an interesting evaluation board for starting new products, devices, technology demonstrators or an early Proof of Concept for a wide range of applications, including advanced consumer electronics like wearable or palm-held smart assistants designed for entertainment, smart museum guides, portable inventory trackers or smart workout equipment with AI-driven person detection and pose estimation.
Installation of devices derived from the Snapdragon 845 Baseboard will be greatly simplified due to the fact that the board is PoE-capable (both data link and power can be provided with a single wire). The open source Snapdragon 845 Baseboard can therefore be easily adapted for smart panels or kiosk-like devices installed in public places providing information or digital signage and enabling basic interaction with bystanders.
Finally, the platform can be used as an end-user interface connected to a more complex machinery control system in industrial applications. Since the Android UI and interaction model is well known to the majority of smartphone users, adding an Android-driven device as a control panel to an industrial machine enhances user experience by providing a familiar interface from day one. The SoM's low unit price and high performance, coupled with Antmicro's no-extra-royalties approach mean you can target applications where such performance levels were not achievable before due to cost limitations.
Naturally, Antmicro's Snapdragon 845 Baseboard has been released on GitHub under the permissive Apache 2.0 license.
Tailored solutions for custom use cases
Antmicro's open source Snapdragon 845 Baseboard is a great choice for mass market smart devices, requiring agile and high-pace development. Together with a variety of compatible and open video accessories created by Antmicro it provides an easily adoptable open source solution, which we can help you adjust to your needs. Whether you require custom hardware, software, an edge AI device or a combination of all of these together, we can assist you with cross-disciplinary expertise on every step on the way to build your project - from choosing the right platform to expanding and modifying it for your specific use case. Let us know what you need at contact@antmicro.com!