Android 7.1 for Apalis TK1
Published: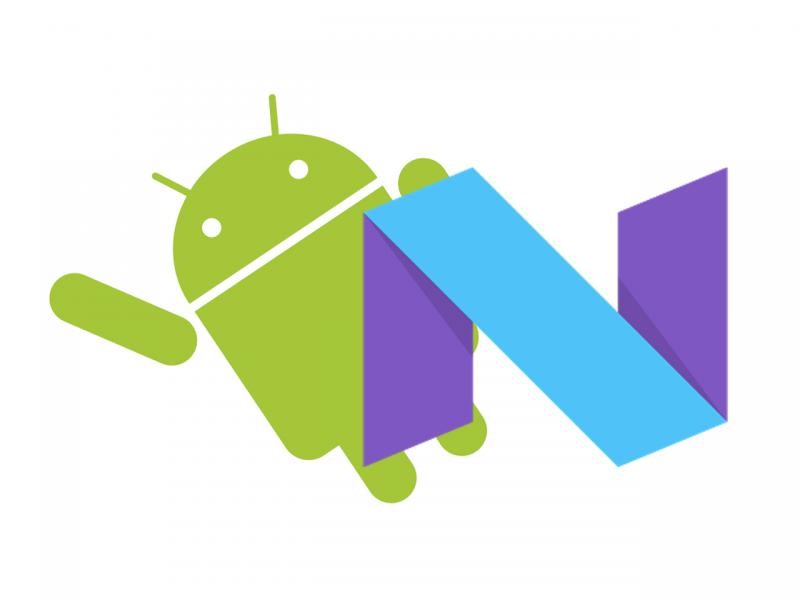 Having found its way into everyone's pockets on board of a shiny new smartphone, Android has become the world's most popular operating system. Constantly evolving to meet the demands of a global community of users, the OS is shaping the future of User Interfaces, influencing user habits and behavior. With Android now available for embedded devices, the industry can also tap into this global community: a short introduction into why Android is worth considering for your next embedded product was included in Antmicro's previous guest post for Toradex. Today we follow up with an announcement of Antmicro's brand-new Android 7.1 demo image for Toradex Apalis TK1 and the accompanying TK1 baseboard, bringing a familiar, cutting-edge UI experience to a small form-factor, high-performance Tegra K1 solution, easy to embed in your product.
At Embedded World, as every year, Toradex and Antmicro partnered up to present a demonstrator of the Android 7.1 Nougat, which is a significant step up from Android 5.1 shown the year before. The Android 7.1 image premiered alongside Antmicro's TK1 Baseboard designed to accommodate the NVIDIA TK1-based Apalis SoM by Toradex and the combination gathered quite some attention, so we decided to describe it in more detail in this guest post.
Antmicro and Toradex will also be co-exhibiting the demo next week at NVIDIA's GPU Technology Conference GTC, at the San Jose Convention Center in Silicon Valley, May 8th-11th, 2017.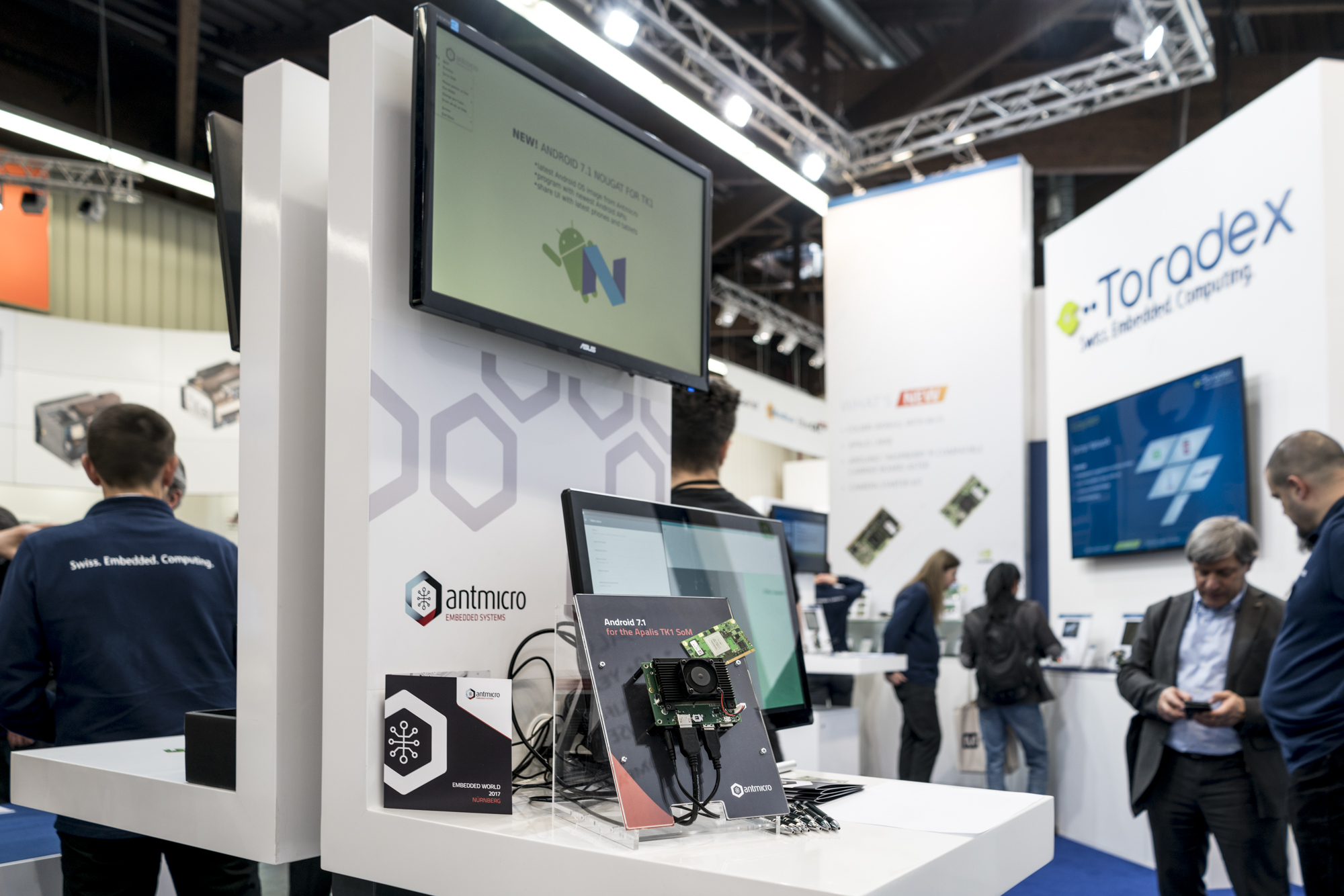 Antmicro's Industrial Android 7.1 Nougat on Toradex Apalis TK1 at Embedded World 2017
Android 7.1 Nougat features
Android 7.1 Nougat's new features include:
Split screen (allowing to display two apps at the same time - a feature that might come in handy in more complex control systems for factories, construction sites, access systems etc.);
Improved security mechanisms;
Improved processing speed;
Vulkan 1.0 support (a graphic library for 3D graphics that can be used instead of openGL i openGL ES, see more details here);
Extended support of Java 8 and OpenJDK;
File-level encryption (previously only the whole disk could be encrypted);
Folder-level access rights granularity for apps (in previous versions the developer could only allow/deny access to the entire disk).
As is visible from the above list, apart from being more modern in every possible way, Android 7.1 brings some potentially ground-breaking features to the table: the screen-splitting functionality expands Android onto new potential use cases (with Samsung already experimenting with the idea of replacing your desktop with a smartphone), the Vulkan support brings modern 3D acceleration capabilities making better use of the multicore CPU and GPU of the Tegra K1, and a significantly extended set of supported Java 8 features improves the application software development experience, which can be a key factor for the ability to respond quickly to market needs.
Finally, allowing fine-grained control in the encryption and file access area makes it easier to build secure and isolated systems.
Why is Nougat a good match for the Apalis TK1?
The powerful quad-core CPU and 192-core GPU of the Tegra K1 can make full use of the capabilities of Android known from mobile systems, including video playback, camera image capture and real-time processing, driving high-resolution displays; these are typically associated with high-performance use-cases where users expect a superb UI experience, comparable to their top-of-the-line smartphone. Android 7.1 offers exactly that.
Additionally, as a multi-core CPU/GPU hybrid, the Apalis TK1 is an excellent match for the new Vulkan API, allowing for a low-level control of how code is executed on the hardware and thus getting the most of TK1's capabilities.
New UI capabilities, including split screen, will be useful at higher resolution screens which again are more naturally suited to TK1.
Antmicro's TK1 Baseboard
Antmicro has prepared a hardware platform especially tailored for the Toradex Apalis TK1 SoM and Android use. Apart from typical IO interfaces like USB, Gigabit Ethernet or HDMI, the board has two slots for expansion cards for mini PCIe and SATA. This setup allows to easily modify the device by adding extra cards for storage or wireless connectivity necessary in high-end products.
To accommodate the growing demand for vision processing in embedded systems, an FPC connector on the TK1 baseboard exposes all of the MIPI CSI-2 interfaces offered by the TK1 module (three in total, 2x4 lane and 1x1 lane). Combined with a modern Android UI and vision processing capabilities in the CUDA-enabled integrated GPU, solutions gathering video input, analyzing it in real time and presenting an interactive application on a user-facing screen can be created - including smart screens, augmented reality, advertising or gaming solutions.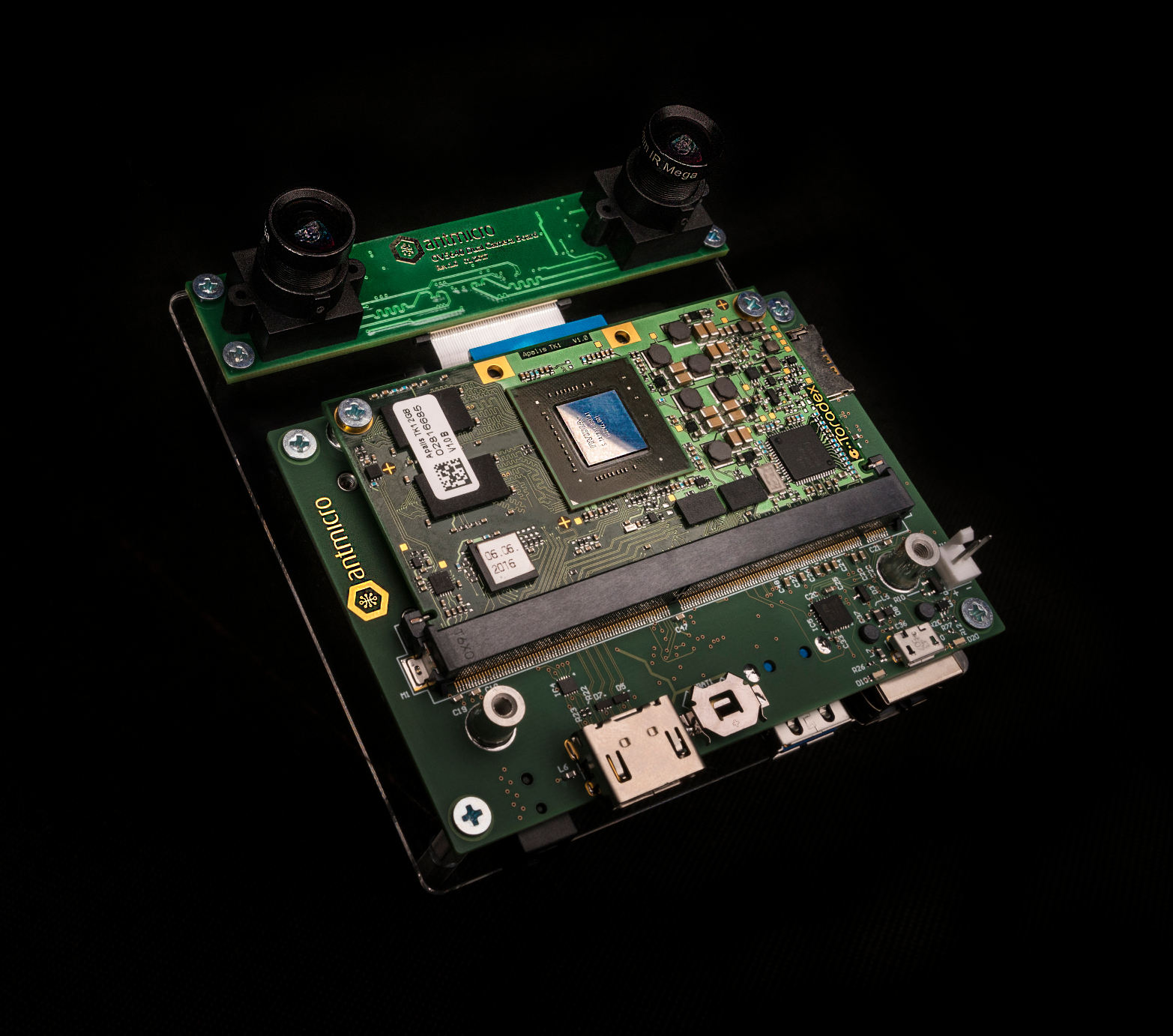 Antmicro's TK1 Baseboard with Camera Extension Board
This approach was also implemented in the AXIOM Gamma 4K open camera (and described in more detail in our first guest post for Toradex), where Android provides the user interface for the device, offering a live video preview with menus allowing to alter the camera's processing behavior.
Besides MIPI CSI-2, the FPC interface also includes a couple of low speed interfaces like I2C, UART or SPI, which makes it is possible to use external expansion boards with cameras and additional sensors. The board is offered as a dev kit bundled with an expansion board equipped with two Omnivision OV5640 cameras along with detachable optics. However, it is worth to note that custom boards with customized sensors will usually still require in-depth system tweaking for optimal results. Antmicro can cover such boards in Android on request.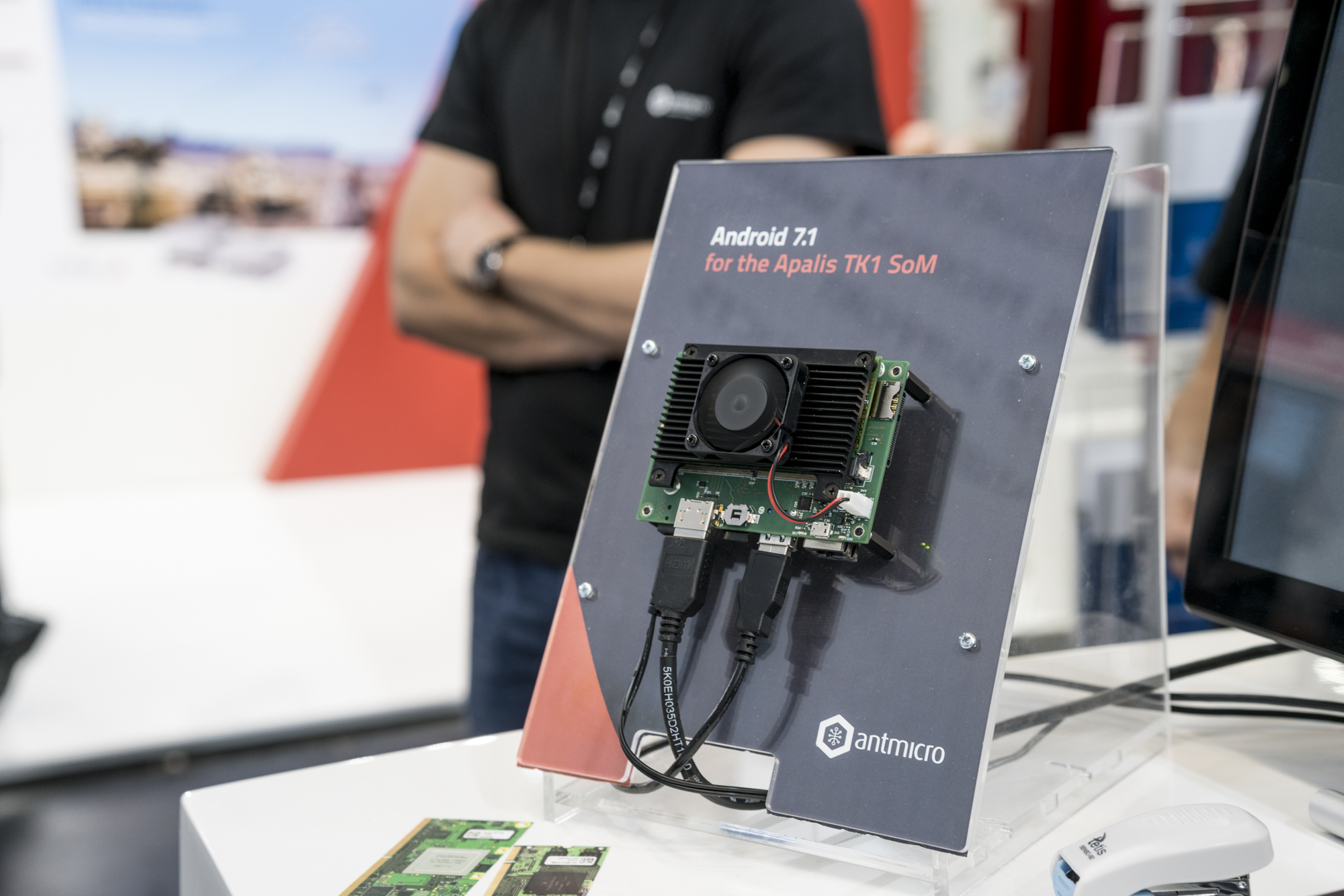 Antmicro's Industrial Android 7.1 Nougat on Apalis TK1 at Embedded World 2017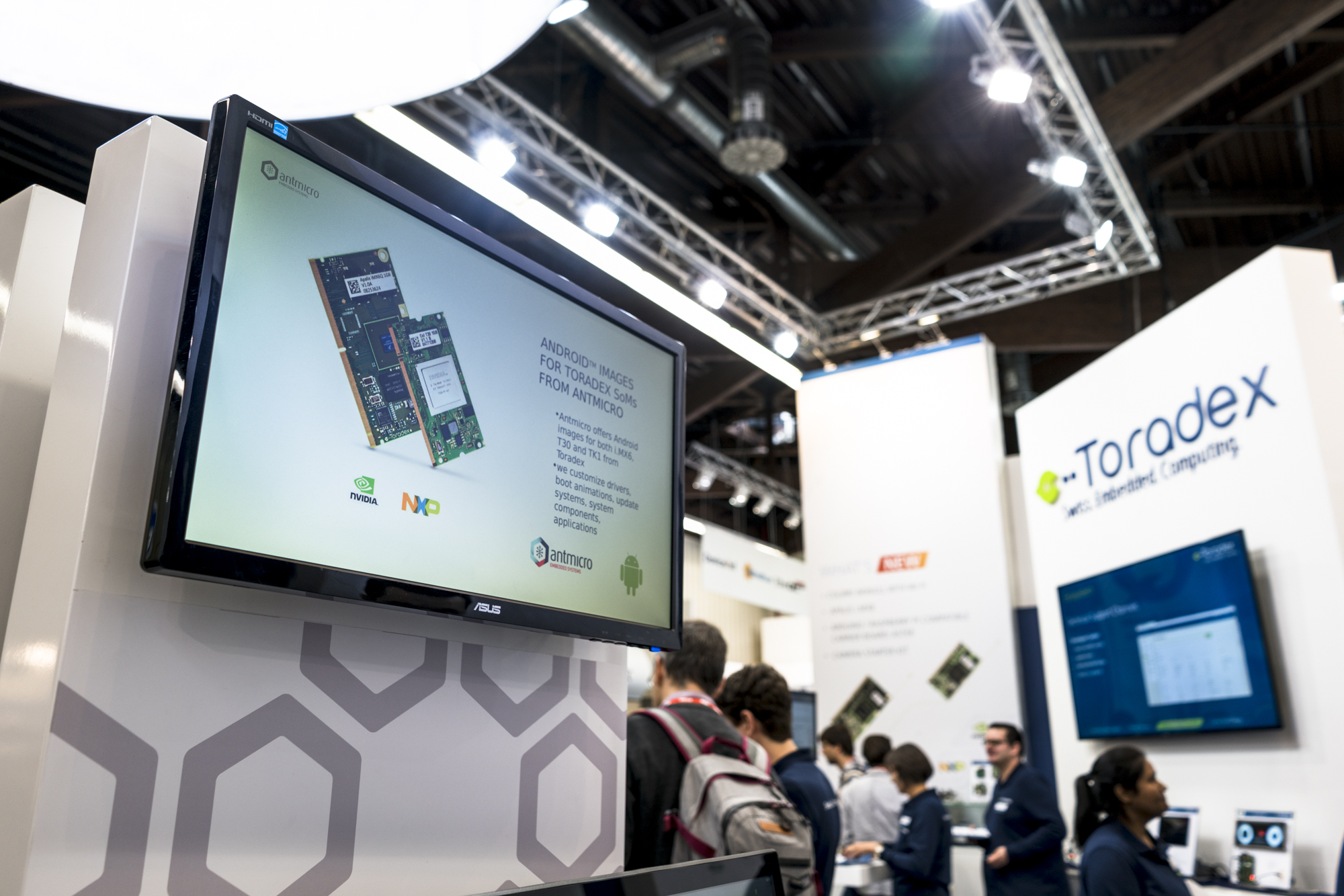 How to get it
Demo images will be available soon from the Toradex website. If you are eager to start building your next Android Nougat solution now, visit the dedicated Android service page or contact Michael Gielda directly at mgielda@antmicro.com.
Antmicro offers customized carrier boards and software customization services to make your latest Android image for Toradex' SoMs a great user experience: we develop drivers, boot animations, update systems, system components and applications and AI/video processing algorithms. Older Android versions or migrations between system versions are possible as well if needed.