Embedded World 2018: Antmicro technologies at a glance
Published:

Over the last year, which may well be called groundbreaking for including a sudden surge in edge AI and the open RISC-V architecture paving its way into the market, Antmicro has been involved with technologies that are changing the face of embedded systems. And the annual Embedded World show in Nuremberg is as always Europe's best address to witness that.
Visit our main booth, co-hosted with Swiss FPGA module vendor and technology partner Enclustra in Hall 4A/121 (see our exhibitor profile and location here), the RISC-V Foundation booth in Hall 3A/419 where we're proudly exhibiting as a Founding Member, or booths of our partners including Toradex and NXP for a personal demonstration of our latest products and services.
Full-stack FPGA development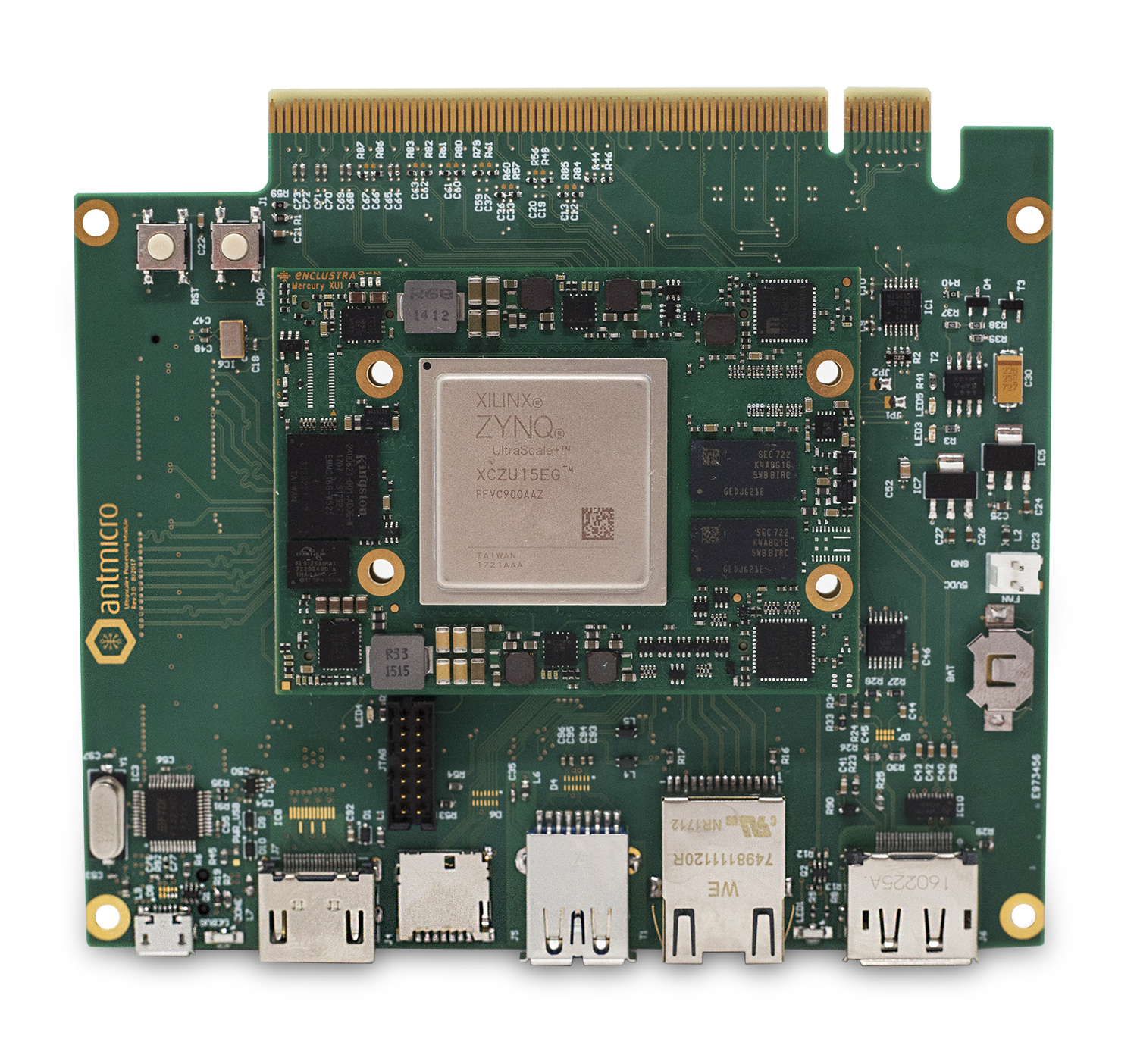 One of Antmicro's focus areas is the FPGA (MP)SoC technology, and it is the fantastically powerful Xilinx Zynq UltraScale+ that will be in the center of attention for many tech scouts this year. Stop by at 4A/121 to learn about Antmicro's high-end UltraScale+ Processing Module with broad I/O capabilities and corresponding processing power. The baseboard is an off-the-shelf product that is well equipped to serve as the center of sophisticated image processing devices, such as the open source AXIOM Gamma 4K camera with streaming solution that will also be on display.
Another complex FPGA SoC application shown at 4A-121 will be our 3D camera platform for mining purposes, featuring both the US+ Processing Module and two CMV2000 sensors, a part of the X-MINE project that is set to greatly optimize ore sorting efficiency using a sensor fusion of X-Ray technology and 3D vision, resulting in less waste, pollution, and higher profitability of several mines throughout Europe participating in the project as direct partners. To learn more about the project itsef, you can read our previous blog note on the subject.
For the full picture, Antmicro offers full-stack FPGA SoC development services, including building tailored hardware for FPGA SoC devices, crafting customized Linux distributions / buildsystems, building custom IP blocks, interfacing and integrating IPs, dynamic reconfiguration, as well as high-speed interfacing between the programmable logic and CPU.
NVIDIA Jetson kits with comprehensive services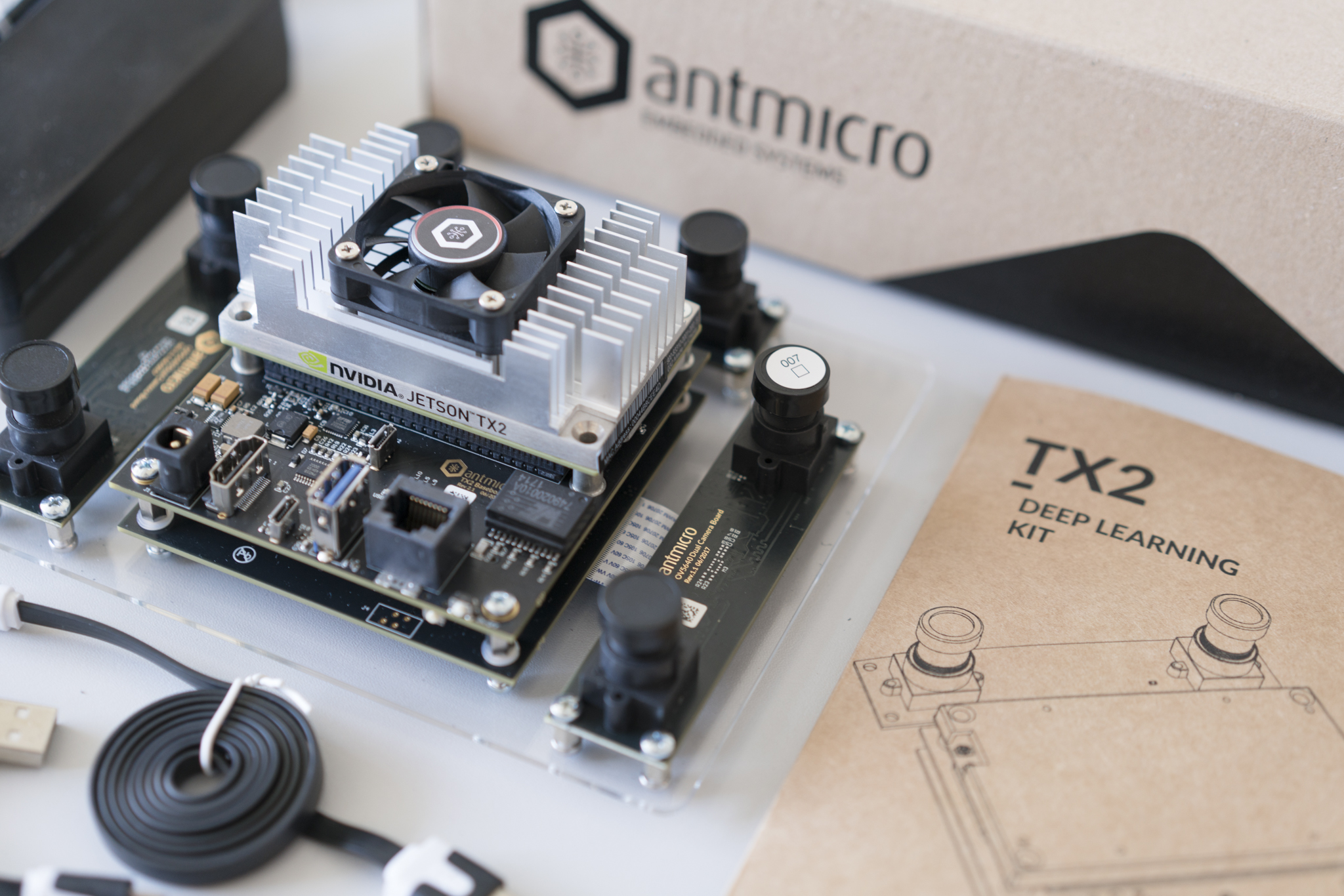 An official NVIDIA Jetson Ecosystem Partner, Antmicro has designed two off-the-shelf embedded vision development kits for customers looking to kick-start their projects in drones, robotics and other in-field applications. See our CUDA-enabled TK1 Smart Vision kit with a 2-camera setup and the 1 TFLOP, 6-camera TX1/TX2 Deep Learning kit complete with accessories to save you time-to-market.
Come to 4A/121 for a presentation of Antmicro's kits and find out about our comprehensive services around NVIDIA's processing platforms, including customized baseboard design, customized BSPs, interfacing sensors, data fusion and deep learning.
RISC-V services
Confirming our strong involvement in the RISC-V ecosystem as a Founding Member of the Foundation, we will also have an official presence at the RISC-V booth in Hall 3A/419. Come by and find out how Antmicro can help you mitigate early adopter issues with our project services to build real RISC-V systems.

A RISC-V demo of our open source emulation framework Renode will be on display, running multiple Microsemi Mi-V nodes, also presented at the RISC-V 7th Workshop. Renode enables a vastly improved, test-driven software development methodology for building scalable, well-tested RISC-V systems.
It's also a great opportunity to connect to the right partners & communities - and Antmicro will be happy to get you started with RISC-V and the benefits of choosing an open source / open specification approach.
Heterogeneous edge computing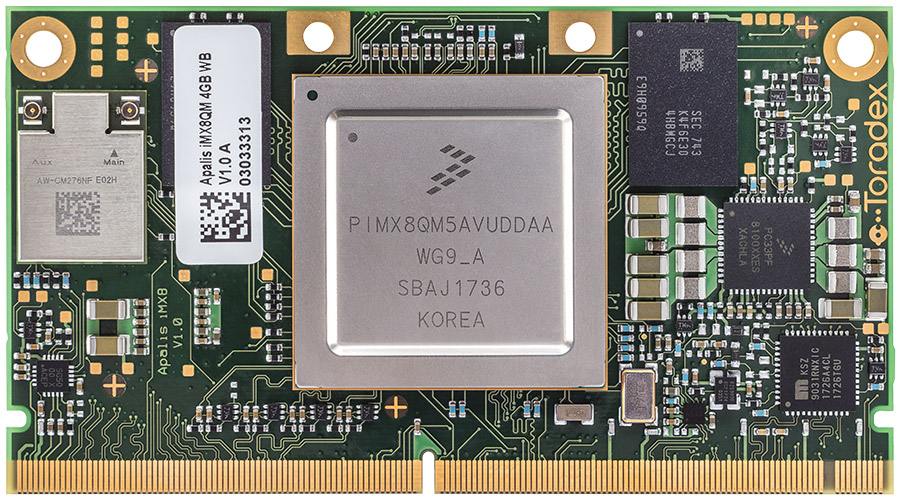 For those eager to see the latest in heterogeneous edge computing, Antmicro will be showing off a demonstrator for the ultra-low-power and GPU-enabled NXP i.MX7 ULP. See how we can help you design full products using this and other multicore processors at the NXP booth, Hall 4A-220, just a few steps from our main stand.
Also, Antmicro has prepared an early demonstrator for the latest Apalis iMX8 SoM by Toradex in Hall 1/639.
Smart vision & Android services
With Android becoming the world's most popular OS and the growing interest in Android for embedded devices, Antmicro and Toradex have been working closely around the NVIDIA Jetson TK1 technology to jointly address that need. See our demonstrator at the Toradex booth in Hall 1/639 showing Antmicro's TK1 Smart Vision kit with MIPI CSI-2 camera support running Android on an HDMI screen. The kit features the acclaimed Apalis TK1 SoM from Toradex, which offers a great balance between low-power, high-speed processing and availability.
Antmicro provides Android porting and customization services for the entire Toradex Cortex-A portfolio as well as other platforms (such as the NVIDIA Jetson TX1/TX2), including customized drivers, boot animations, OTA update systems, boot time optimization, system components, AI and video processing algorithms.
Schedule a meeting
Building high-tech edge computing systems? If you would like to schedule a meeting to discuss any of our services and products and learn how we can help you with your next technological challenge, send us a message to contact@antmicro.com or stop by our main booth in Hall 4A/121 for more information.