Open source hardware dual camera module for stereovision applications
Published:
Topics: Open hardware, Open machine vision
Over the years of creating custom camera platforms and Edge AI vision systems, Antmicro has delivered a number solutions designed to do object tracking, obstacle detection and avoidance, as well as advanced inspection and quality assurance. Such tasks are best performed with stereovision systems equipped with such modules as Antmicro's OV9281 Dual Camera Board.
Today we are announcing the board's open source release, extending the list of our contributions to the non-proprietary video hardware ecosystem.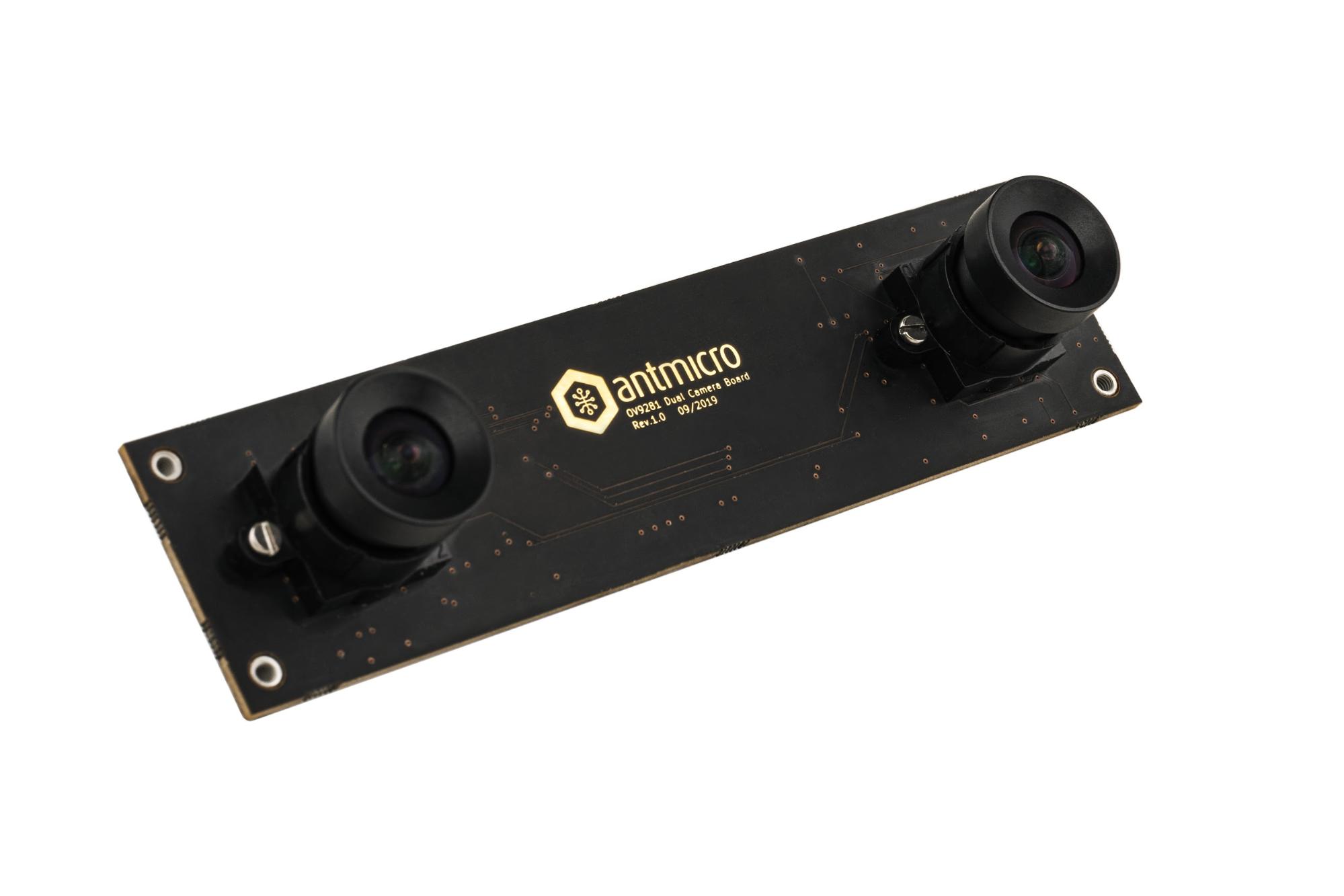 Stereovision systems may require high responsiveness and need to provide hardware synchronization capability, and the OV9281 Dual Camera Board meets those demands.
The board is equipped with a pair of 1-megapixel OmniVision OV9281 image sensors with mounting holes for standard S-Mount (M12) lens holders.
Each sensor can be connected to a host platform via a separate 2-lane MIPI CSI-2 interface.
To ensure synchronization between the cameras, the board enables mutual triggering, meaning that one camera activated by the host automatically triggers the other.
Owing to the cameras' high frame rate, the board can be applied in vision systems aimed at tracking quickly moving objects, and thanks to their built-in ISP, some processing can be offloaded from the host board. With two synchronized sensors, small dimensions and low weight, the board is ideal for size-constrained applications such as UAV/UGV.
The board features a 50-pin FFC connector which exposes two separate MIPI CSI-2 interfaces for both cameras, along with power supply rails and separate I2C buses used for sensor configuration. The module has 4 mounting holes in the corners and is compatible with other Antmicro's products and open hardware designs, including our Jetson Nano baseboard, Google Coral Baseboard or Zynq Video Board.
Find the full specification of the board below:
| | |
| --- | --- |
| Image sensor(s): | 2 x monochrome global shutter OV9281 |
| Pixel size: | 3 μm x 3 μm |
| Active array size: | 1280 x 800 |
| Optical size: | 1/4 inch |
| Lens mount: | M-12 (S-Mount) |
| Output interface: | 50-pin FFC connector |
| Output formats: | 8/10-bit BW RAW |
| Maximum image transfer rate: | 1280 x 800 @120 fps |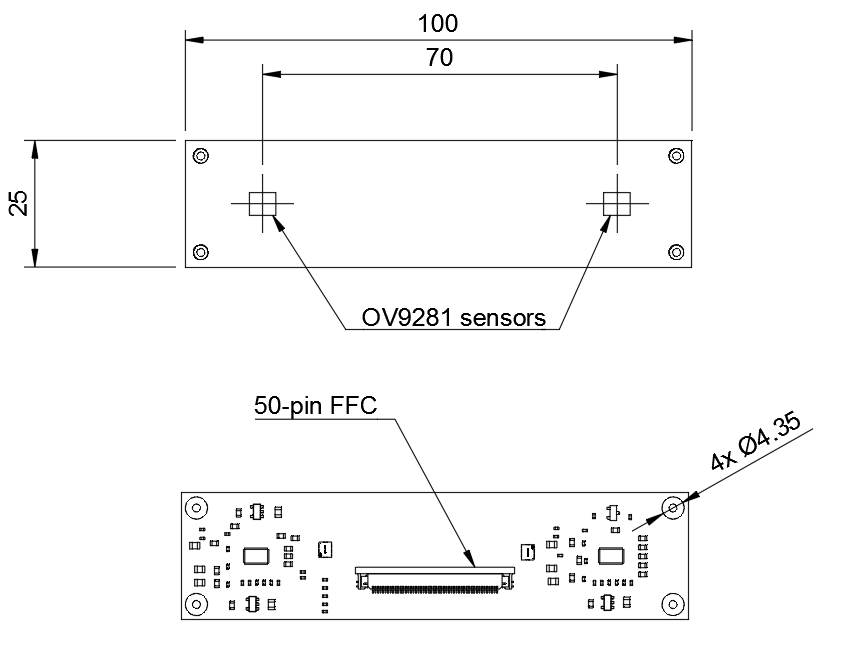 Antmicro offers end-to-end project development services, which often involve prototyping the client's solution with pre-existing components, and then integrating specific cameras or other sensors required by the project with various processing platforms - be it through MIPI, SDI, Ethernet, USB, CoaXPress or other interface. We can also develop your BSP with camera drivers and on-board AI processing capabilities, so if you are about to start working on your next generation product, please do contact us at contact@antmicro.com to find out how your projects can benefit from our experience.