Antmicro's open source SDI-to-MIPI Bridge
Published:
Topics: Open hardware, Open machine vision
Antmicro's software and hardware services often involve video data processing. The vision systems we have created for customers from various industries use a range of interfaces, however, the most popular embedded platforms, such as NVIDIA's Jetson SoMs, Google Coral devkit and other NXP i.MX8 platforms or Qualcomm's Snapdragon typically have only one interface designed to connect video accessories, that is MIPI CSI-2.
To enable quick prototyping with various video input interfaces, we have been building a wide array of open source accessories for our range of open source baseboard platforms. The latest addition to the family is Antmicro's SDI-to-MIPI bridge based on the Lattice CrossLink FPGA that allows SDI-based systems to harness the power of embedded AI platforms.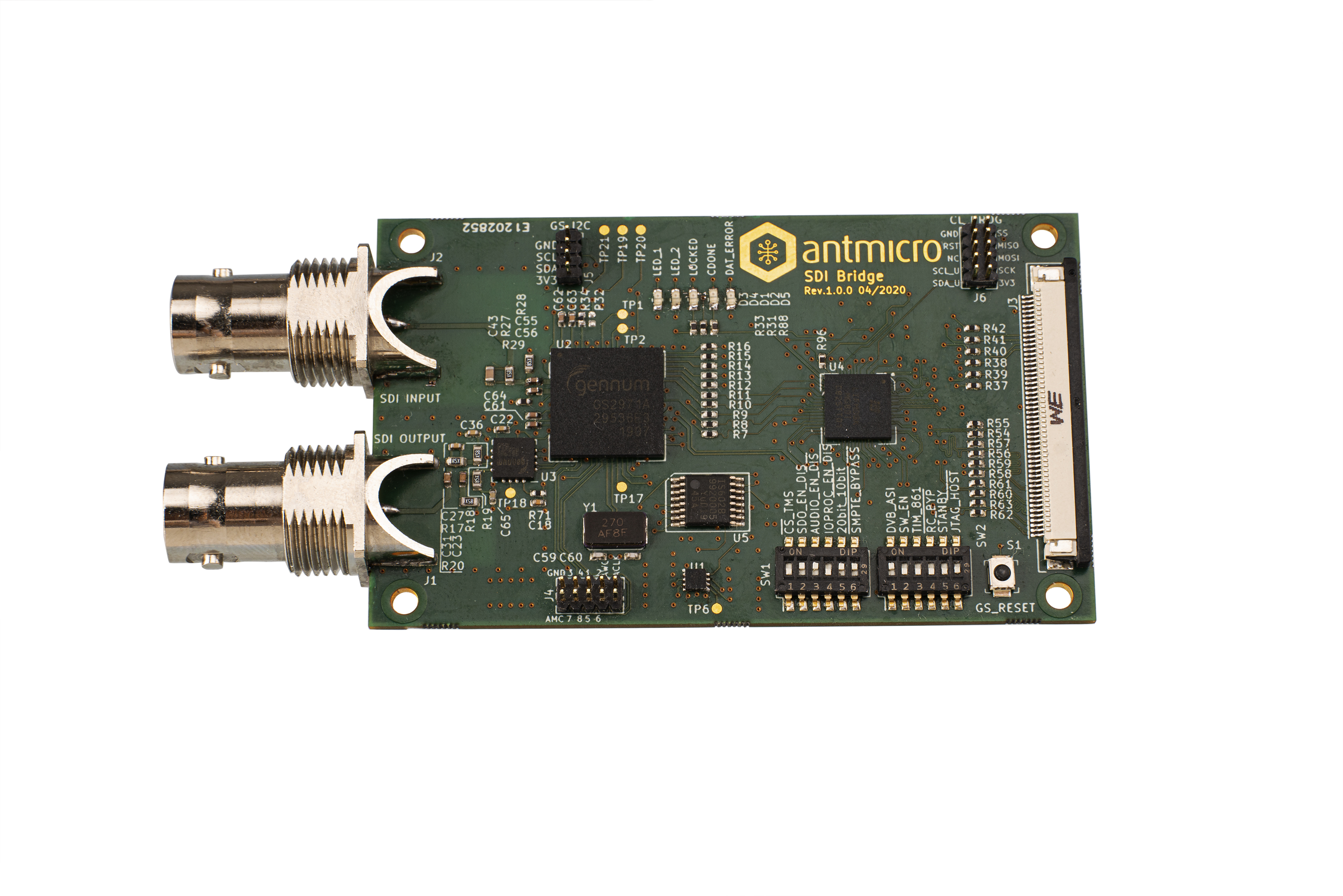 Just add SDI
MIPI CSI-2 is the most popular interface used in cameras, drones, IoT devices, face and object recognition security systems and infotainment.
But for more heavy-duty industrial equipment operating in the field, where cameras cannot be mounted directly on the processing unit, MIPI CSI-2 is not an option, as it doesn't allow devices to be connected to it at a distance longer than a few dozen centimeters.
Our Lattice CrossLink-based SDI bridge scratches that itch and enables us to design various solutions that benefit from SDI's support of transmission over a single coaxial cable to achieve much longer connections.
Full control over your product
The SDI bridge joins Antmicro's ever growing portfolio of open hardware that we use to achieve otherwise unattainable flexibility in our solutions, while giving our customers full control over their product.
No licensing, no royalty fees - our clients receive complete source code and a full insight into the device we've built for them.
With cross-domain experience in FPGA development and video systems and a firm commitment to open source, Antmicro can integrate SDI and other video interfaces directly into your product.
We base on our ecosystem of flexible platforms, accessories, software frameworks and other components that we can customize, adapt and combine to make a product that specifically meets the requirements of your project.
Robust hardware ecosystem
Apart from the SDI-to-MIPI bridge, our open hardware portfolio includes the Zynq Video Board, the Google Coral carrier board, the multi-camera TX2 video platform and our flagship baseboard for the powerful Jetson Nano™ and Xavier NX™ modules from NVIDIA®.
So far we have used the Jetson Nano / Xavier NX baseboard for projects involving stereovision, data fusion with synchronous camera triggering, integration with external MCUs, IMU, motor control, FPGA, radar and other sensors, or to enable camera interfaces such as SDI. Using the platform, we have been implementing OTA update systems, reproducible and traceable BSPs using OpenEmbedded, hardware-in-the-loop Continuous Integration, ROS environments, containerization and - of course - deep learning for our customers.
Get in touch with us and let's talk about how our comprehensive services and broad know-how can help you build your next advanced computer system.