Apalis Smart Vision Baseboard released as open source
Published:
Topics: Open hardware, Edge AI
In line with our open source hardware strategy, Antmicro is happy to announce that yet another carrier board design has been added to our open source hardware portfolio. Released on the permissive MIT License, the Apalis Smart Vision Baseboard has joined our diverse range of hardware including AI SoM baseboards, camera boards, bridges and other accessories that it can be coupled with for high design flexibility. The development board and its custom variants made by Antmicro have found their way into a number of computer systems that we've built for clients from various verticals and is now available on GitHub to enable even more innovation in our ecosystem.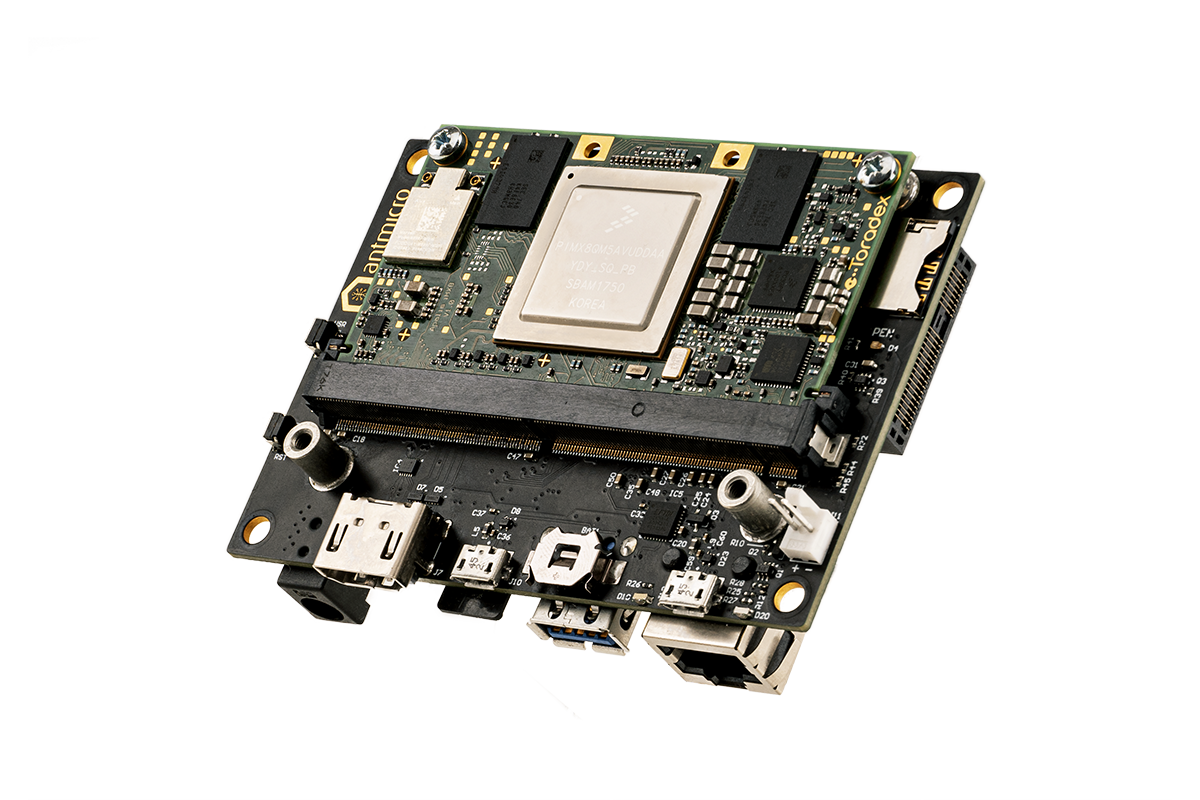 Perfect for advanced vision systems
The no-strings-attached availability of our smart dev board design enables our customers and partners to kickstart prototyping industrial applications that need advanced video processing capabilities, with our commercial services in both hardware and software available to help push robust products to market once they have been successfully validated.
The carrier board has been built to make the most out of Apalis system-on-modules from our long-time partner Toradex, which come with NVIDIA's CUDA-capable TK1 or NXP's iMX8 processors. Only slightly bigger than the modules themselves, our open-source baseboard provides a flexible platform for developing systems that perform object detection and tracking, real time video analysis, AI-enhanced industrial inspection as well as machine learning applications. It is easily extensible thanks to the on-board M.2 and mSATA slots and has been used in a number of our customer products, both with standalone Apalis modules and with extra AI acceleration modules such as Intel Movidius Myriad.
Also, we released an open source industrial Android BSP for the TK1 to maximize the potential of our open hardware platform. Android's familiar feel and the API-driven character have proven to be a great fit for a number of applications we've built with our customers and partners, such as AR/VR solutions, portable instruments, infotainment kiosks, automotive devices, smart lighting and smart home products, and more.
Apart from creating dedicated BSPs, Antmicro's comprehensive software and full system development services include custom operating systems, drivers and kernels, over-the-air update systems, Yocto / OpenEmbedded-based distributions, gstreamer pipelines, and AI applications. With a decade-long history of building customer devices based on Toradex's modules, as well as experience working with products from NVIDIA and NXP - who are also Antmicro's partners - we are well versed in using those technologies to deliver cutting-edge computer systems.
Integratable with a range of hardware accessories
The Open Apalis Smart Vision Baseboard can integrate with up to 3 MIPI CSI-2 cameras and is compatible with other open hardware by Antmicro, such as the SDI-to-MIPI bridge - enabling professional video equipment to be used with embedded processing platforms; the OV9281 dual camera module for stereo vision applications; or a range of flexible CSI adapters for ALVIUM allowing you to connect Allied Vision's 1500C and 1800C series cameras.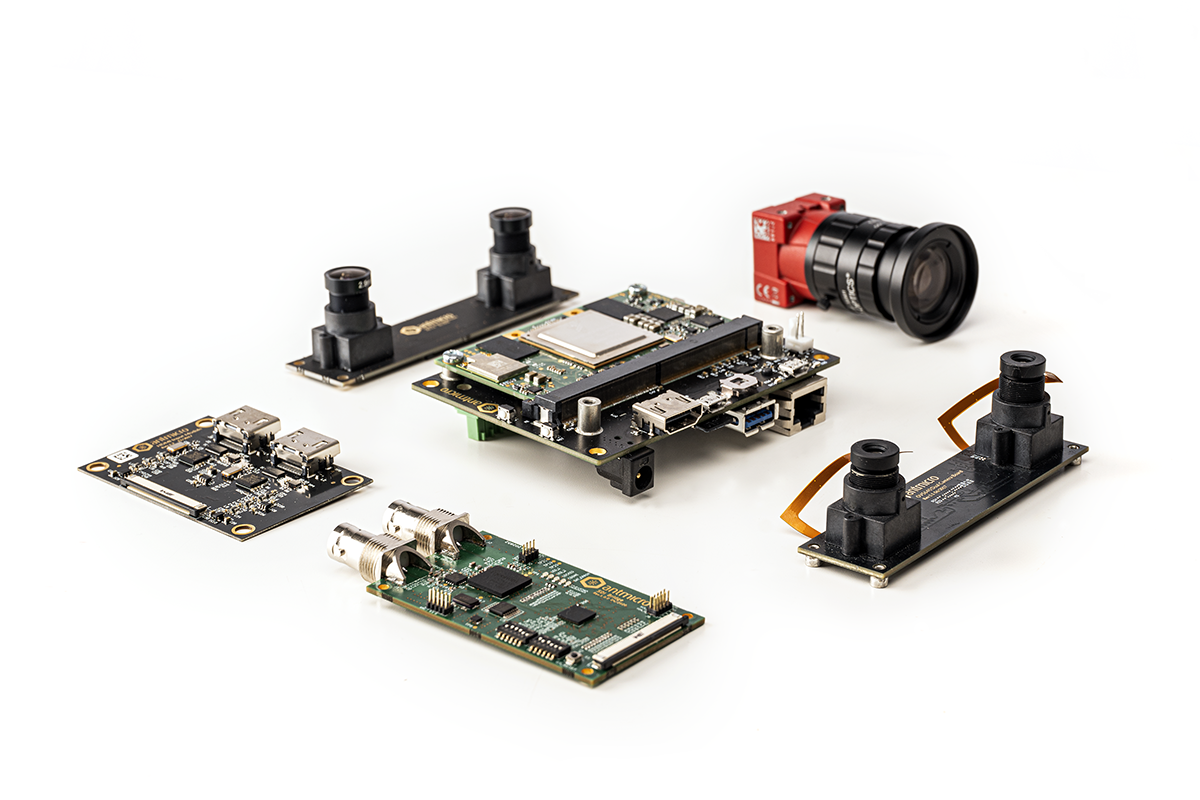 The flexible adapters, available from our partner Capable Robot together with many of our other boards and accessories, enable Allied Vision cameras to be located away from the processing module in the most convenient place within the system, increasing the degree of spatial flexibility in e.g. robotics applications. They are also electrically compatible with our other baseboards: Open Jetson Nano / Xavier NX Baseboard, TX2 Deep Learning Platform, Google Coral Baseboard and Zynq Video Board.
Our customers get full control over the products which we create with our open source hardware. Get in touch with us at contact@antmicro.com to find out how we can help you build your next-gen application.